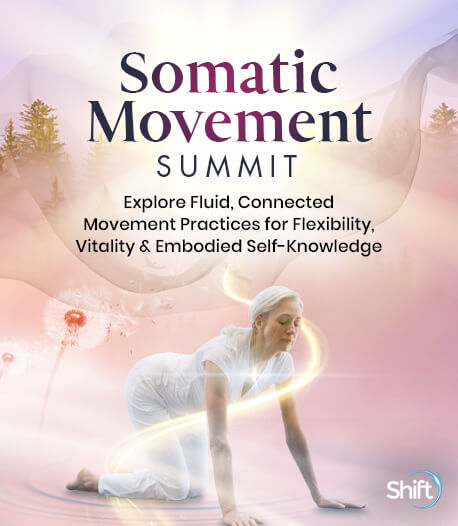 Program & Replays
Welcome Message From Your Series Hosts
With Dr. Martha Eddy & Simon Borg-Olivier
With Dr. Martha Eddy, RSMT & Simon Borg-Olivier & Lavinia Plonka
Dr. Martha Eddy, RSMT
Founding Director-Dynamic Embodiment® Somatic Movement Therapy Training
Dr. Martha Eddy is an international speaker and author, a master somatic movement therapist (MSMT/E), registered somatic dance educator (RSDE), and applied physiologist, with a doctorate in movement science/biobehavioral studies from Columbia University. She shares her contemplative and activating movement approaches on The Shift Network with her course "Reset Your Nervous System and Regulate Your Wellbeing With Dynamic Embodiment® Movement." 
She is an innovator dedicated to social justice, and was named the first Geraldine Ferraro Fellow of Social Justice and Movement at Marymount Manhattan College. She spent 10 years as part of the certification faculty at the School for Body-Mind Centering®  and the Laban/Bartenieff Institute of Movement Studies. She was inspired to blend these profound disciplines into The Somatic Movement Therapy Training. Once the field of somatic movement became known, she rebranded her own work as Dynamic Embodiment® SMTT, also affiliated with the Moving On Center — Bridging Somatics With Social Change for 30 Years and Moving For Life DanceExercise for Health ®, two nonprofit organizations that she co-founded, the first with Carol Swann.
Her articles and chapters on eco-somatics, movement, the brain, social-emotional learning, and healthy living have been published in research, arts, educational literature, and the news. Martha is the author of Mindful Movement: The Evolution of the Somatic Arts and Conscious Action. The book she co-authored with Shakti Andrea Smith, A Dynamic Embodiment®  Approach to the Sun Salutation, guides readers in how to balance their hormonal system through understanding the sacred use of space, vibration, and movement. She has served on numerous boards, including The Yard Choreographic Residency, the National Dance Education Organization, the Congress on Research in Dance, the International Somatic Movement Education and Therapy Association, and the Laban/Bartenieff Institute of Movement Studies, the last two of which she has served as president. Clearly, dance is a big part of her expression.  She has been training people in her somatic approach to dance for 15 years with Certified Teachers of BodyMind Dancing around the world.  Together with Moving For Life Certified Instructors and Dynamic Embodiment Practitioners, there is a robust eco-somatic, social justice, savvy group of somatic movers and shakers applying this work worldwide in hospitals, community centers, libraries, businesses, corporations, and universities.
Her work, especially the dance films and free Moving For Life wellness programs for people going through cancer, has been featured in the NY Times, on National Public Radio, and on almost every national television news network. Media coverage has also covered the healing nature of BodyMind Dancing in releasing pain, tensions, grief, loneliness, and stress and MOVING it to pleasure, joy, relief, ease, creativity, and beauty.
Simon Borg-Olivier
Co-Founder & Director of Yoga Synergy
Simon Borg-Olivier, MSc BAppSc (Physiotherapy) APAM, c-IAYT, has practiced various types of traditional posture, movement, breathing, and mental control for 55 years. His primary modalities include hatha yoga, Qigong, non-contact internal martial arts, dance, music, chanting, and massage. He has been a registered physiotherapist for 25 years. 
Simon is a research scientist and university lecturer. He has been regularly invited to teach about exercise, meditation, therapy, nutrition, and life coaching at conferences, festivals, and intensive teacher training courses internationally since 1990. He also teaches online courses on the applications of posture, movement, and breathing for fitness, internal health, wellbeing, and longevity.
Simon has studied intensively with great traditional masters worldwide, including masters from Tibet, Japan, India, and China. Along with his business partner and fellow physiotherapist Bianca Machliss, Simon has co-authored many books and scientific articles, including Applied Anatomy and Physiology of Yoga, the textbook for two courses taught at Australia's RMIT University.
Lavinia Plonka
Body Language Expert & Guild Certified Feldenkrais Teacher®
Body language expert Lavinia Plonka has helped people improve their movement, behavior, health, and careers for over 35 years. Her unique expertise connects the dots between posture, movement, emotions, and the mind. Lavinia is the founder of Kinēsa®, an educational process that integrates movement, science, and ancient wisdom traditions. 
Lavinia's training and professional career have included theater, dance, yoga, and martial arts. A former vice president of the Feldenkrais Guild of North America, she has taught the Feldenkrais Method® for over 30 years, is a lead instructor of the Emotional Body® and an ISMETA Master Somatic Movement Educator. Her theater credits include the Guggenheim Museum's Learning Through Art program, international tours, commercials for Nickelodeon, and more. 
Lavinia has written several books exploring the intersection of movement, awareness, and wellbeing, including What Are You Afraid Of? which has been translated into seven languages. She is director of the Asheville Movement Center in North Carolina, where she maintains a busy private practice.