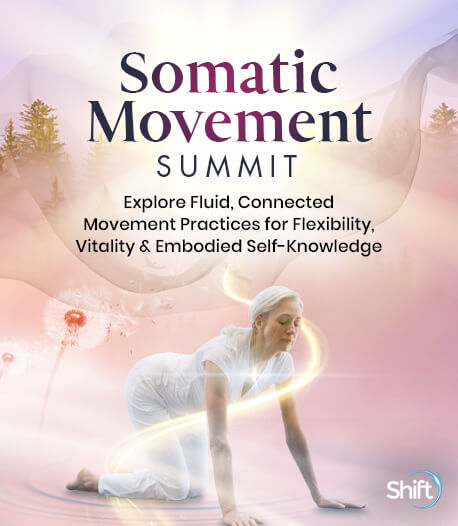 Program & Replays
The Art of Peace: Transforming Your Emotional and Physical Pain Through Somatic Education, Body Awareness, and the Principles of Aikido
Broadcast on June 06, 2023
With Richard E. Sims MSME, MSMT, CTP
Hosted by Simon Borg-Olivier
What is pain? Is it physical, emotional, or something completely different? Throughout his career, Richard E. Sims has helped many clients with their physical and emotional wounds and scars. In this experiential session, Richard guides participants through some of the newest approaches to working with acute and chronic pain — incorporating body and mind together in non-pharmaceutical, complimentary, and integrative ways that are designed to change the ways people experience their pain.
In this session, you'll discover:
A new understanding of pain
What actually causes pain
Body-mind approaches to use that can affect how you experience pain
The views expressed are specific to the author/speaker and may vary from the perspectives of The Shift Network's participants, staff, or other speakers.
Love this Speaker and What They Have to Say?
It can be yours to keep... forever.
Get lifetime access to the summit and bonus material by upgrading now!
UPGRADE HERE
Richard E. Sims MSME, MSMT, CTP
Somatic, Body Awareness and Mindfulness Educator & Certified Trauma Professional
Richard Sims MSME/T, is a master somatic movement educator/therapist, mindfulness educator, somatic and body awareness educator, Aikido instructor, and certified trauma professional who specializes in the areas of stress, fear, anxiety, trauma, depression, pain, resilience, and empowerment.
Some organizations he brings his trauma-sensitive approach to include MenHealing (support for sexual abuse survivors) and the Cancer Wellness Center — where he helps patients, survivors, and caregivers through their cancer journeys. He is certified by the state of Illinois to work somatically with first responders, whose jobs often push their bodies and minds to their limits. 
Rich has also served countless teens and adults who are looking for a body-mind approach to the many challenges they face. He's on the executive committee and board member with ISMETA (International Somatic Movement Education and Therapy Association) tirelessly working to promote the somatic profession, and its place in the whole person integrative health field.
He has a private practice and teaches online and in person around the Chicago area and abroad. He sees clients as a private provider, or as part of an integrative health team working in a complementary fashion with other mental and physical health practitioners.