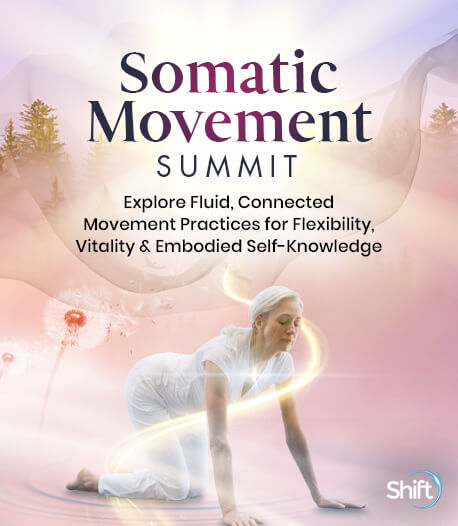 Program & Replays
Connecting Liquid Movements to the Continuum Inquiry
Broadcast on June 08, 2023
With Susan Harper, MSME/T
Hosted by Dr. Martha Eddy, RSMT
Susan Harper, MSME/T, speaks about the liquid movements of Continuum inquiry. She connects these movements to the intelligence of the element of water on the planet. We often have perceptual cuts that keep us narrow and tight. Being able to sensuously feel liquid movements and sounding softens the tissues and delivers us into openness in love's body. She also speaks about the embodiment of images in dreams, and enactment in ritual theater in her Living Dreams events.
In this session, you'll discover:
A 15-minute liquid movement and sounding exploration to awaken somatic awareness of organismic intelligence

Liquid movements provide healing resources

How to connect to a core sense of wellbeing that is deeper than any momentary experience
The views expressed are specific to the author/speaker and may vary from the perspectives of The Shift Network's participants, staff, or other speakers.
Love this Speaker and What They Have to Say?
It can be yours to keep... forever.
Get lifetime access to the summit and bonus material by upgrading now!
UPGRADE HERE
Susan Harper, MSME/T
Continuum Teacher and Founder of Continuum Montage
Susan Harper, MSME/T, is a Continuum teacher, heart-soul counselor, and inspired teacher of perceptual and movement inquiry. Since 1975, Susan has been teaching internationally and contributing to the development of the Continuum, which was originated by Emilie Conrad. Susan has the ability (through a personal demonstration of sounds, breaths, and movement) to transmit a primal and spiritual fluidity that inspires participation resulting in embodied innovative discoveries. Her students call her a moving storyteller, one who opens portals into the vast space of creativity, which is available within all human beings. She creates contexts for those who love to inquire and engage in frontier conversations, who dare to listen at the edge and in the depths— those who are aware of the adventure of courting the unknown.
Susan is a founding member of the Continuum Teacher Association, creator of Continuum Montage, and developer of Body of Relating, Body of Perception, and Living Dreams seminars. In these events, fresh heart-based perceiving and moving instantly affects how we relate, altering our fundamental sense of belonging. The emphasis is on somatic awareness, soulful movement, and the skills of intimacy. The practices open vital new ways of perceiving creative imagination, and a deep capacity for presence, resonance, and love.