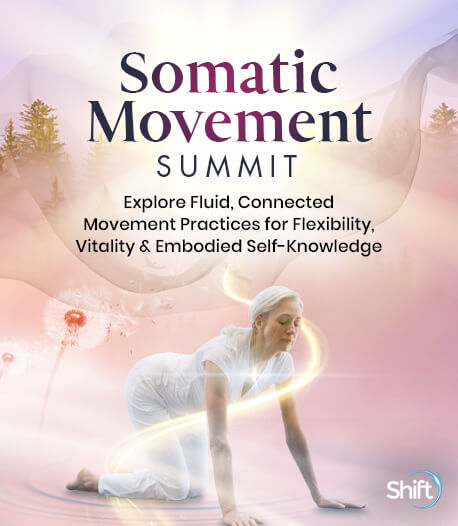 Program & Replays
Nourish and Revitalize Your Life
Broadcast on June 07, 2023
With Gayatri Maya Andersson-Schriefer, MSME
Hosted by Simon Borg-Olivier
In this session, Gayatri Maya Schriefer-Andersson, MSME, will teach you how to revitalize and energize your soma — both body, and mind. With the help of somatic principles, you'll discover what's calling you deeper into your wholeness journey. By growing what is good for you, the things that you can detox on any level will naturally exit your life. Explore how to self-regulate and restore whole-body balance to return to what feels good and is healthy for you, as a foundation for living the life you love.
In this session, you'll discover:
Ways to ignite your somatic ability to know what is good for you
How somatic principles can be learned on the mat and applied in everyday life
A short somatic movement sequence to support somatic balance, overall ease, and wellbeing
The views expressed are specific to the author/speaker and may vary from the perspectives of The Shift Network's participants, staff, or other speakers.
Love this Speaker and What They Have to Say?
It can be yours to keep... forever.
Get lifetime access to the summit and bonus material by upgrading now!
UPGRADE HERE
Gayatri Maya Andersson-Schriefer, MSME
Co-Founder of Living Somatics, Somatic Movement Educator
Gayatri Maya Andersson-Schriefer, MSME, is the co-founder of Living Somatics and a certified clinical Hanna Somatic Educator (CHSE), an Equine Hanna Somatic Educator and a graduate of The Novato Institute for Somatic Research and Training. Gayatri is a board member of the International Somatic Movement Education and Therapy Association (ISMETA) and a registered master somatic movement educator (MSME). Together with Brian Siddhartha Ingle, she's co-hosted the first three virtual Somatic Movement Summits. Gayatri holds a bachelor's degree in education with a focus on health promotion, pedagogy, and kinesthetic learning. She is part of the core team at The Ingle Institute for Somatic Education, which offers training programs in the clinical hands-on work and movement lessons of living somatics. In addition, Gayatri co-facilitates women's self-leadership programs with her sister Jahanavi Schriefer.
Over the course of her adult life, Gayatri has studied somatic movement and spiritual modalities, including Hanna Somatics, Equine Somatics, the Feldenkrais Method®, Watsu®, Body-Mind Centering®, biodynamic craniosacral therapy, Qigong, dance, several styles of yoga, and the art of Native American tracking. 
Gayatri is passionate about offering pathways to greater self-connection, transformation, and elevation in the somatic-lived experience. She consults clients and teaches trainings internationally, in person, and online.