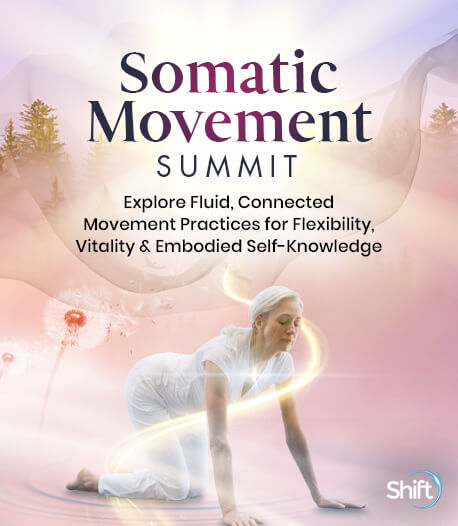 Program & Replays
Moving Into Higher Consciousness
Broadcast on June 09, 2023
With Leora Gaster & Tom Rankin
Hosted by Lavinia Plonka
Awareness is a skill everyone can learn in order to access and expand higher consciousness. Join Leora Gaster and Tom Rankin as they explore the physical, cognitive, and emotional aspects of higher consciousness through guided movement. Their work provides simple tools for being present in the moment and expanding self-knowledge.
In this session, you'll discover:
Precise guided movements to develop the skill of awareness
Insight into using awareness for inner wisdom
How self-knowledge and inner wisdom create a higher consciousness in life
The views expressed are specific to the author/speaker and may vary from the perspectives of The Shift Network's participants, staff, or other speakers.
Love this Speaker and What They Have to Say?
It can be yours to keep... forever.
Get lifetime access to the summit and bonus material by upgrading now!
UPGRADE HERE
Leora Gaster
Co-Founder of MBS Academy (Work of Dr. Feldenkrais) & MBS Master Trainer and Program Director
Leora Gaster has been teaching mindbody studies internationally for over five decades. She co-founded MBS Academy (Mind Body Studies) with her mother, Mia Segal, in order to keep and develop the complete works and origins of the work of Dr. Feldenkrais, which is a synthesis of its many applications and the connections of the brain, behavior, and philosophy of life.
At MBS Academy they have trained generations of practitioners and trainers at all levels for multiple professional and personal applications, from medicine to athletics. Leora coded the work, and published manuals and Core Principles of MBS, including a program for school children, and a teaching manual of awareness through movement lessons. She's also produced online programs, videos, and audio recordings, making the work accessible to people of all ages, levels, and needs.
Leora has a degree in human biology from Stanford University, with a focus on the interconnection of brain and behavior, and is an advisory board member of USC's Peermental Health Initiative.  She is also an NLP trainer and holds a black belt in Judo, by Kodokan, Tokyo. 
Tom Rankin
Assistant Trainer for Mind Body Studies
Tom Rankin is an assistant trainer for MBS Academy (Mind Body Studies).  He has been mentored by Leora Gaster and Mia Segal for more than 10 years.  Tom has been a certified strength and conditioning specialist for more than 20 years, and has been a part of Stanford University's Health Improvement Program for more than 10 years.  Tom has a private practice with the South Bay Network of Somatic Education (S3NSE) in Cupertino, CA.