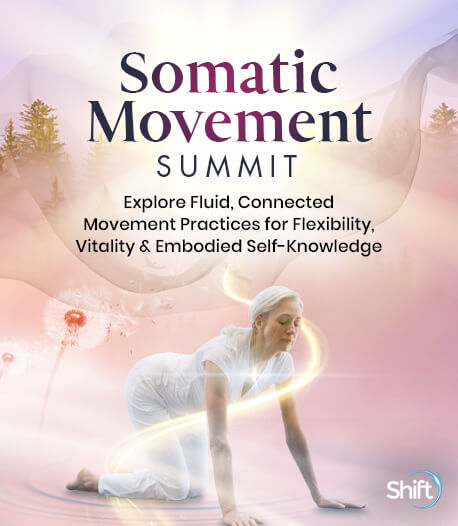 Program & Replays
Somatic Expression® and the Five Somatic Technologies
Broadcast on June 07, 2023
With Jamie McHugh, MA, MSMT
Hosted by Dr. Martha Eddy, RSMT
The five Indigenous technologies embedded in us by nature for physiological and psychological health are breath, vocalization, contact, movement, and stillness. Somatic Expression® is a user-friendly method that combines these five objective somatic technologies with subjective personal experimentation to tend and befriend our inner ecosystem. Join Jamie McHugh, MSMT, as he discusses how the simplicity and inclusivity of this approach have introduced many people worldwide to the pleasure and wonder of being a body on Earth.
In this session, you'll discover:
An experiential practice of the five somatic technologies
How you can orchestrate the five somatic technologies to create a multilayered, present-moment experience
The wonderful connection between this approach and recent neuroscientific research on Non-Sleep Deep Rest (NSDR), physiological sighing, and breathwork
The views expressed are specific to the author/speaker and may vary from the perspectives of The Shift Network's participants, staff, or other speakers.
Love this Speaker and What They Have to Say?
It can be yours to keep... forever.
Get lifetime access to the summit and bonus material by upgrading now!
UPGRADE HERE
Jamie McHugh, MA, MSMT
Master Somatic Movement Therapist & Interdisciplinary Artist
Jamie McHugh, MSMT, is a registered Master Somatic Movement Therapist, and an interdisciplinary artist. He's the creator of Somatic Expression® — Body Wisdom for Modern Minds, an integrative approach to the art and craft of embodiment. He is also creator of NatureBeingArt, abstract contemplative photography of the natural environment for both fine art reproductions and video streams.
His somatic-expressive practices for re-wilding the body, mending the mind, and restoring the spirit have been inspired by Bonnie Bainbridge Cohen, Emilie Conrad, Anna Halprin, Thich Nhat Hanh, Pomo healer Lorin Smith, and the wild places of the planet.
Jamie offers trainings, classes, and individual sessions in pragmatic body wisdom derived from the five somatic technologies indigenous to the body — including breath, vocalization, contact, movement, and stillness. The accessibility and simplicity of his approach comes from 45 years of personal and professional practice, working with a wide range of audiences in varied contexts, ranging from graduate students in holistic health education, to dance and theater artists, to people living with life-threatening illnesses. His work is user-friendly, ranging from sensitive and deep to playful and exuberant as he invites participation in the sensate soul of the body. His current focus centers on "Embodying Nature," a sensory-motor approach to ecological attunement taught on land in the U.S. and Europe, and "Embodied Mindfulness, " body-based contemplative practices taught online to participants worldwide. He is constantly threatening to complete his book — and, one day he might!